ITALIAN KISS – GUINNESS WORLD RECORD 2023 – NEW RECORD WITH 463 COUPLES
26.09.2023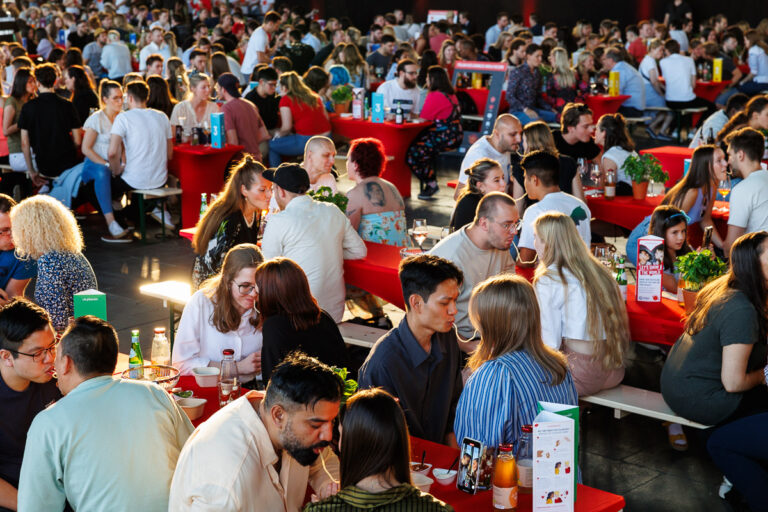 Berlin, 06 July 2023 – Even the Lady and the Tramp knew: There is only one true love, and that is for pasta! This famous Disney scene was followed on Thursday – International Kissing Day – 463 couples in a world record attempt of a special kind: During the Italian Kiss, two people share a spaghetti, eat it from the opposite ends and meet – for the Italian Kiss – in the middle.
For this venture, the guests of VAPIANO in Hangar 4 at the iconic venue of former Tempelhof Airport had a maximum of 30 seconds to complete a successful attempt. The world record challenge was also attended by many celebrities such as musician Mike Singer and his girlfriend Sophie Marstatt alongside 1000 Vapiano fans.
The common goal this evening: to beat the Italian Kiss GUINNESS WORLD RECORD, which was set last year by 433 couples in Belgium. After the original record was held by VAPIANO in France since 2020, this year, Vapiano wanted to take the crown back in the original german home of Vapiano. With success: at 19:30 on Thursday, the time had come. Under observation of the official GUINNESS WORLD RECORD jury, led by Seyda Subasi-Gemici, the existing record was broken. Exactly 463 couples successfully met for the Italian Kiss and cheered the success.
"It's great that we were able to bring the world record back to VAPIANO with the support of our fantastic guests – that makes us very proud. It's almost even nicer that we were able to celebrate love, good food and the Italian joy of life together with so many people on the International Kissing Day. After challenging times, this day is a special highlight for us as VAPIANO in Germany," explained Daniela Senatore, Managing Director of Gastro & Soul GmbH, the master franchisee of VAPIANO Germany.
On the previous evening, around 180 guests were invited to a VIP event at the VAPIANO restaurant at Checkpoint Charlie, where they enjoyed good food and refreshing drinks in preparation for the Italian-style world record attempt. In addition to musician Mike Singer and partner Sophie Marstatt, the TV – presenter Jana Ina Zarrella and Laura Wontorra as well as TV star Evelyn Burdecki and Bachelorette Sharon Battiste celebrated the Italian joy of life. The right atmosphere was provided by celebrity DJ Teddy-O and Nic Shanker, known as a star bartender, as host.
"With this event by VAPIANO we celebrate love and Italian delicacies – what could be better. At the same time, we have been able to contribute a small part to this successful world record attempt, which makes me very happy," says Mike Singer about his participation.